SATURDAY 20 FEBRUARY 1999
--- Last updated: 20/02/99, 22:41 GR ---
NEWS IN ENGLISH
FOOTBALL

A pale ARIS left 3 points in Nikea.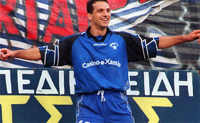 ATHENS - 20/02/1999 - Goal chances from the first minute, players' suspensions (Koltsidas 29' and Filis 76'), lots of yellow cards, powerful and fast game from both of the teams, all together made up an exciting match, and proved that interest does not only exist in the top places of the scoreboard. It was obvious from the start that we were about to see an amazing game.
In the 1st minute, the referee closed his eyes to four-player off-side (!) of Ionikos, but Frousos' shot was eliminated by Alekos Dellios. Just a minute later, Liolidis won the ball and took a shot which passed slightly out of the right vertical bar of Pourliotopoulos. However, Ionikos' superiority in this match was awarded very early, when in 12' Greg Brewster won the ball over Mantzios and after passing it, Frousos sent it in writing the 1-0 for the team of Nikea.
From that point on, Ionikos seemed to be the ruler of the game, as an addition to that was Giorgos Koltsidas' second yellow card in 29', that left ARIS FC with ten players for something more than an hour. Koltsidas had already seen earlier a card for complaints, in 23'. The second one (=red) came for an irregular tackling on Greg Brewster. Xanthopoulos had two consecutive goal attempts in 31' with a shoot, and in 33' with a header. Dellios said 'no' both times, and was fairly announced our best player in this match despite the three goals.
Ionikos missed another good chance for a second goal in the first half, as after a corner kick in 44', Nikos Frousos in the role of a hidden centre-for, was left uncovered and all alone, though his header did not win Dellios who blocked the ball in tense. The first part of the game ended with 1-0 for Ionikos, having Frousos, Brewster and Xanthopoulos in a great day. ARIS FC was average and became dangerous only in a few foul-kicks with Paolo Andrioli and Giannis Mallous.
An impressive beginning for Ionikos in the second half, showed that the team from Nikea wanted to 'end up' the game there. However the first good chance for a goal came from Kennedy Nagoli in 64', whose powerful long shoot was roughly eliminated by Pourliotopoulos. Ionikos FC seemed to have full control of the midfield, with Brewster being a natural game leader. On the other side, Paolo Andrioli was ...out of space, probably confused and affected from his first presence against the team he used to play for 2,5 years. Nagoli wasn't in a good day either, unable to make up our team's game as he is used to.
It was the 68th minute when Ionikos attacked once again, and after a mistake of Dalkidis, Muhammad Afash found a 'hole' in our defence and with a fore play entered the area and won Dellios, after shooting the ball in his right corner, writing the 2-0 for Nikea. Our defensive problem was obvious, as after Koltsidas' suspension the team was left with one stopper and Mantzios could not catch up with all the strikers of Ionikos. In 73' Dario Muchotrigo took advantage of the confusion of Georgiadis, and caught a powerful shot sending it in Dellios' goalposts, making the score 3-0. ARIS FC could not react, despite the three substitutions of Paraschos (Agathokleous, Erak and Sigurgeirsson).
Ionikos was more passionate and got the result they wanted. Referee Giannadakis showed 8 yellow cards to their players, with ARIS FC having only 2 cards (both of them for Koltsidas). From our players, no one performed above average, except for Dellios. Now we have another match to play in Athens, this time against Panionios in Nea Smyrni. Panionios competes in the European Cup Winners' Cup, and will play against SS Lazio in a few weeks, though they have become weak due to the several players they had transfered out of the team (Mantzios, Katsiabis, Nalitzis, etc).
Ionikos: Pourliotopoulos (gk); Daraklitsas; Kljajevic; Pahatouridis; Rodriguez (Deligiannis, 44); Xanthopoulos; Filis; Brewster; Muchotrigo (Kobayashi, 82); Afash; Froussos (Ofrydopoulos, 78).
ARIS FC: Dellios (gk); Georgiadis; Louboutis; Mantzios; Koltsidas; Dalkidis (Erak, 69); Mallous; Andrioli; Nagoli; Liolidis (Agathokleous, 69); Flores (Sigurgeirsson, 89).
BASKETBALL
News not available.-
GAMES COMING UP NEXT:
Football, A' League - game .21 : Panionios - ARIS FC, Feb. 28 at 15:00 GR
---
Check out this page every day !
Καθημερινή ενημέρωση σ'αυτήν τη σελίδα !





---
---
Page maintained by Thrasos Tezapsidis
Give us a feedback !

ierolohites@freemail.gr