Aris FC:
Katergiannakis, Panagiotidis, Kouvalis, Nikolaou, Koltsidas, Zahopoulos,
Strantzalis, Panopoulos, Vlahoudis (Louboutis, 76), Mirtsekis, V.Mitsopoulos (Borbokis, 50)
Slightly improved, ARIS took a very valuable victory in the tough field of Kallithea, which is called "El Paso". The yellows returned back to success after the draw in Vyronas against Doxa, and the loss in Harilaou from Apollon Kalamarias. It was the best time for another away from home victory, as a new failure would upset even more the spirit of the team.

This was sort of a "medicine" for our players' psychology, a relief from their anxiousness which is so obvious the difficult season we are during. It's not that ARIS is allowed to talk about a "triumph" (of course not), but in any ways the three winning points saved the team from some unfortunate situations, and allow them to talk about a new start and a better future. ARIS definitely didn't played very good yesterday, but was obviously improved according to our previous appearances, and fairly managed to win the match. If only weren't we stopped twice by the goalposts, and Nikos Mirtsekis was more efficient, ARIS could have won much easier.

The "yellows" showed just a part of their abilities, but where ARIS was improved was in the midfield. Panopoulos, backed up by Vlahoudis and Strantzalis, were the keys for ARIS' superiority and control of the game in the biggest part of the match, while defence was also good. All defenders had a steady performance, and Babis Nikolaou showed that he's started getting familliar with the game of the team.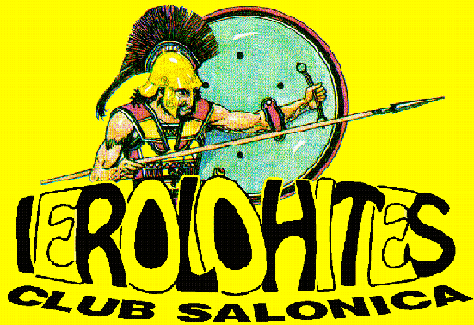 ARIS entered in the field more decisive than Kallithea, and from the begining of the game made up his game. Without catching any serious performance, ARIS was better than the opponent, who seemed sort of frightened by the name of our team and our history. George Firos' team controled the ball in the midfield, but couldn't find easy solutions against Kallithea's defencive line. In 25', a shot from Panagiotidis went out, and in 29', after a header from Panopoulos, the newcomer in the starting-11, Vangelis Mitsopoulos, took a slight shot which didn't upset Kiourkos. Kallithea missed their best chance in the first half, when Karadimos took advantage from a mistake of ARIS' defence, and -fortunately- his shoot went straight on Fanis Katergiannakis.

ARIS players went to the dressing rooms with a 0-1 score, as in the 44th minute of the game, Kallithea's defender Goverinos touched the ball with his hand and Strantzalis hit successfuly the penalty kick. This goal came right on time, as the "yellows" went back in more confident.

Just when the second half started, ARIS missed the chance to duplicate his goals. In 47' Panopoulos entered in Kallithea's area from the left, but his shot founded the right vertical bar of Kiourkos. In 56' a shot from Basinas made Kallithea seem dangerous, but Katergiannakis said "No" once again. Ten minutes later, after a long pass from Kouvalis, Mirtsekis' header went on the horizontal bar of Kallithea's goalkeeper. A minute earlier Kallithea was left with 10 players, as the ref dismissed Goverinos, because he pulled Panopoulos from the shirt. In 77' and in 85', Borbokis' and Mirtsekis' shots had no luck, and the end of the game found ARIS winning it with 0-1.

This victory is not enough for ARIS players to show that they 're doing better. We need more ...evidence. Best player of the team was Michalis Panopoulos, who organised our way of play in the midfield. Fanis Katergiannakis was very steady and mistakeless whenever needed, showing readiness and "cool blood", while Nikos Panagiotidis made a very good appearance from the right (not only in defence). Babis Nikolaou had a clear thought in his choices, and along to Zahopoulos were responsible for the defencive success in this match. Koltsidas and Kouvalis were also positive, while Strantzalis and Vlahoudis gave lots of help all over the field. Vangelis Mitsopoulos showed that he has courage and talent. Mirtsekis had the chances to score, but he was extremely unlucky. Though he returned back many times to support our middle line, and that's a "plus" for the whole appearance of the team.

George Firos said that this was a new start for performing better and better from now on. He commented: "Everyone gave his fight in there, and I would like to congratulate them for showing such passion. I think we could have 'finish' the game much earlier, as we had the chances but didn't make them goals. We must show in the field that we are worth for a better future in our coming up games, 'cause this victory ain't enough".

* The unexpected fact of the game is that ARIS players were wearing the traditional yellow-black shirts, although the wish of the fans was not to wear them in the fields of the 2nd division. Those who betrayed us should really think about what they did, because no one plays with ARIS fans...

* Over 200 ARIS fans were present in "El Paso", supporting their team. While travelling to Athens, our fans were faced against Panathinaikos fans who were going to Athens to attend the match vs Aek. From the fight and the "exchange" of objects like rocks and boulders, Panathinaikos fans' bus was severely damaged, and both sides ended the fight before the police came there. There were no arrests.-
Kallithea:
Kiourkos, Korobokis (Houlouilidis, 65), Apostolou, Gagalos, Georgopoulos,
Goverinos, Dimitriou (Welbek, 84), Basinas, Karadimos,
G.Kiourkos, Papadimitriou